Amy's Gran Fondo is a COVIDSafe Event
Published: 10 SEPT 21

It is with tremendous disappointment that we advise that Amy's Great Ocean Road Gran Fondo will not proceed on October 24th, 2021. 
The health and safety of our participants, staff, volunteers, and the Victorian community must take priority. 
With the current uncertainty around the COVID-19 pandemic and the challenges of conducting a large, mass-participation cycling event in the current environment, the event is unable to proceed in 2021.
The event will return in 2022 to its traditional position in the cycling calendar, on the second Sunday in September; Sunday 11th September 2022. Where we will come together and ride Australia's most spectacular course, and continue to raise much-needed funds for the Amy Gillett Foundation's safe cycling programs. 
All participants have been contacted via email with the options for their registration. If you are a registered participant and you haven't received your correspondence, please email granfondo@amygillett.org.au
We sincerely thank you for your patience, fundraising contribution, and ongoing support for the event and the Amy Gillett Foundation as we navigate this uncertain time.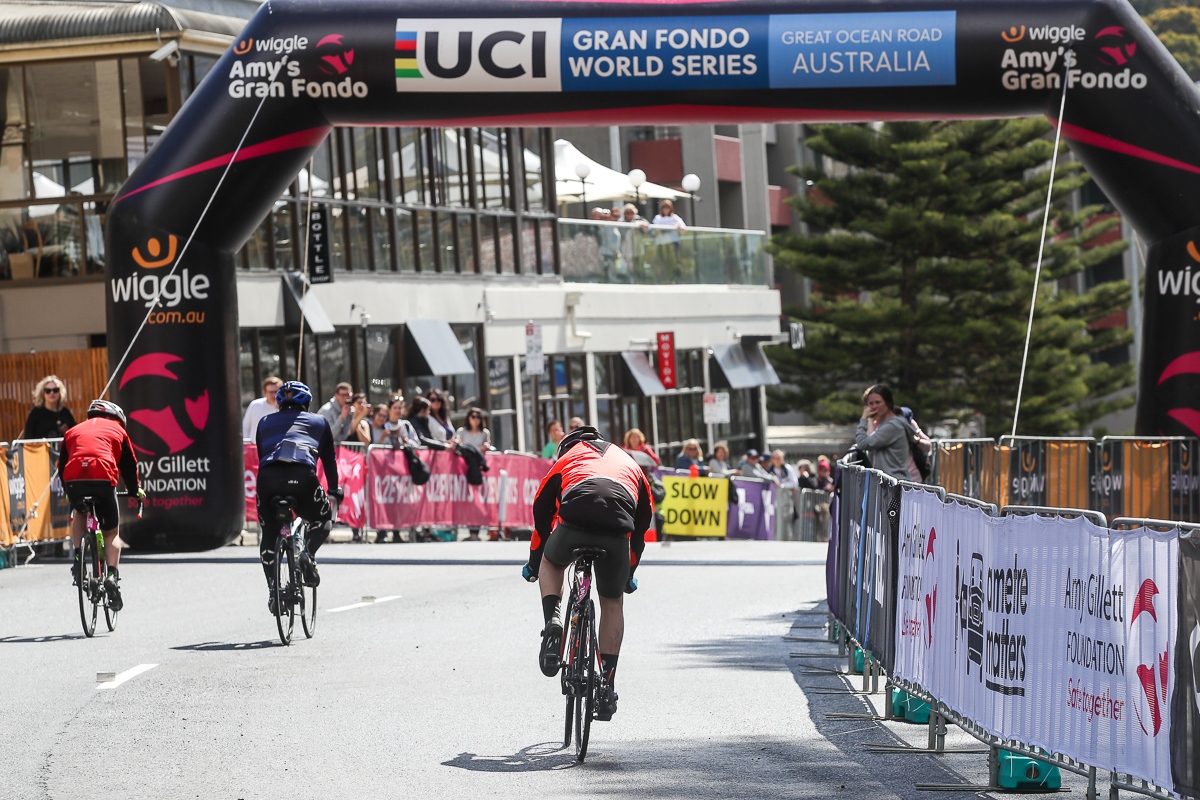 COVID-19 CANCELLATION POLICY
If the event does not take place for reasons relating to the COVID-19 pandemic, where possible, the event will be rescheduled. If this happens all registered participants will have their event registration (and any additional purchases) automatically moved to the new event date. The event will provide as much notice as possible.
If for reasons beyond O2 Events control, the event does not take place at all (including reasons relating to COVID-19), all registered participants will have their event registration (and any additional purchases) automatically moved to the same event in 2022, or be able to opt for a refund of their registration fee, less a 30% administration fee.

Stay at home if you are unwell
Dept of Health advise all people to stay at home if they are unwell or display any symptoms of COVID-19.
Please seek medical advice and testing for COVID-19 if you displaying any of the following symptoms:
fever
cough
sore throat
shortness of breath
fatigue
KEEP YOUR DISTANCE
Maintaining physical distance is everyone's responsibility.
Please remember to keep your distance from others while training and participating in Amy's Gran Fondo.
Start zones for each age group will be carefully managed to ensure the event meets social distancing guidelines. Please help out by assembling in the start zone that matches the coloured bike seat post sticker.
PLEASE DON'T ATTEND Amy's Gran Fondo if the following apply to you:
You have tested positive for COVID-19
You have been in close contact with a person who is positive for COVID-19
You are awaiting results of a COVID-19 test
You have traveled overseas or to a declared COVID-19 Hotspot in the previous 14 days
Sanitise Your Hands
Practice good hand hygiene. Wash your hands frequently for at least 20 seconds using soap and water and make use of hand sanitiser
Hand sanitiser stations will be located throughout the Amy's Gran Fondo event, please use them at the start line, finish village and when arriving at aid stations.
Wear a Mask
Please remember to bring a mask with you.
Please wear your mask to the event (especially if you are using event transport services), within the start area and anywhere else that you find it difficult to social distance including the finish village.
Check in when you arrive
There will be various check-in locations around the Event. Check in signage will be located in the start area, at aid stations and around the expo and finish village.
Timing chips information will also be used to help identify riders movements throughout the event.
Please be sure to download the Services Victoria App before arriving at the Event, so you can scan quickly and easily.
Take notice of COVID MESSAGING
Prior to the Event, COVIDsafe messages will be shared by event email, safety briefing and social media.
On Event day, public address systems and signage will be used in the start, finish and along the course routes to communicate information around COVIDsafe practices in place.
Please read and listen to the messaging and follow directions to keep everyone COVIDsafe.
BRING A WATER BOTTLE
Bring your 2 full water bottle to use during your event.
Water cups will be available at aid stations throughout the course and there will be facilities to refill water bottles.
PLEASE LEAVE EXTRA ITEMS AT HOME
Where possible, please minimise any additional items you bring to the event.
A small, contactless bag drop service will be available for riders, but for both COVIDsafe and security reason.
SPECTATOR LIMITS
There may be limits to the number of spectators at the event. This measure is to assist with contact tracing, should the need arise. If you have spectators or family with you please make sure they use the QR code check-in at the various locations around Lorne – including Lorne shops, cafes and restaurants.
ARRIVE, PARTICIPATE AND SUPPORT A LOCAL BUSINESS
Once you have completed your event, please depart the Event and support a local cafe or restaurant.
This will help maximise the number of entrants that can enjoy Amy's Gran Fondo, while supporting some businesses that have had a tough time during the pandemic. Please make sure you use the Services Victoria app to check in with local businesses.
IF YOU FEEL UNWELL WHILE AT Amy's Gran Fondo
Please seek immediate assistance from the nearest COVID Marshal, Volunteer, Event staff member or medical staff.
All these staff will be easily identifable, and will provide appropriate assistance.