Amy's Gran Fondo
Age Category Race 130km
UCI Gran Fondo World Series Event Entry – Age Category
Sunday 15th September 2024, Lorne, Victoria
Amy's Great Ocean Road Gran Fondo is the safest and most spectacular Australian Cycle Event – featuring fully closed roads of the Victorian Great Ocean Road & Otways. 
A 'Gran Fondo' is an age-old Italian cycling term, meaning 'great endurance'. Traditionally a Gran Fondo is a timed event that has a scenic, challenging, mountainous course. The distance, terrain and sensational scenery of the Surf Coast and Colac Otway regions makes for a challenging ride and the ideal location for a Gran Fondo.
The Age Category Event sees amateur riders race in the UCI World Gran Fondo Series with the top 25% in each age group being invited to the following year's UCI Gran Fondo Series World Championship Event. Whether taking up the invitation or not, the honour of being a qualifier is highly sought after and something to be proud of achieving (Age Groups listed down the page). This Age Category Event is open to all riders aside from the list at page bottom.
The 2025 Gran Fondo World Championships are in Lorne on October 17th-19th! You can qualify in 2024 to race and become a world champion in 2025!
Click to Enlarge Static Map or Interactive Map at Page Bottom.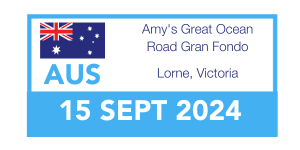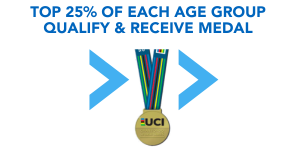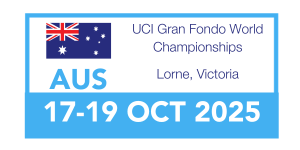 Riders receive 'best in class' event support with; Full Road Closures via Traffic Management, Aid Stations (food and drink) x 4 locations on course, Mobile Mechanics on course, Medical Resources & (if required) Bus Sag Wagon Return to Start Line. Additional to these elements, there are multiple layers of Police, Council and Event Management Resourcing on the event to ensure your ability to safely race.
Opening Special
Open – 12th October
$235
Early Bird
13th October – 31st May 
$255
Standard
1st June – 26th July
$275
Last Month
27th July – 31st August
$290
Late Entry
1st – 13th September*.

$310
*Registrations close at 4pm on the 13th September.
$10 discount for AusCycling Members.
Take an extra 10% off each entry if you enter in a group of 4 or more! Simply set up a team when the first person registers.
Please note Teams are only for 4 or more riders. The first team member registering will have to set up the team when paying (they too will receive the discount).
Key Information
Date: Sunday 15 September 2024
Start Time: 7:30am
Start Location: Mountjoy Parade, Lorne, Victoria, Australia
Distance: 130km
Timing:
Once released from the start line, your Age Category's time will commence when the first rider from your wave passes the Start Timing Point, 1.9km from Start Arch. Your wave will all be given the same start time. The Finish Arch will be at the Lorne Hotel.
Format: Fully Closed Road Age Group Qualifier for UCI Gran Fondo World Championships
Age Groups: 18-34, 35-39, 40-44, 45-49, 50-54, 55-59, 60-64, 65-69, 70-74, 75+ (Age at 31 Dec 2023)
Minimum Age: 18 years (Age at 15th Sept 2024)
Entries Close: Friday 13th Sept, 4pm
Event Village Hours: Friday 13th September 4pm to 6pm, Saturday 14th Sept 10:00am-4:00pm, & Sunday 15th Sept 7:00am-4:00pm
Entry Includes
Fully Closed Roads
Fundraise your way to the front of your start group and earn other great fundraising rewards
Timing
Free Finish Line Photo
UCI Gran Fondo World Championship Qualification opportunity (finish in top 25% of your age group)
Online Safety Briefing
Sponsor Discounts
Numbered Timing and Helmet Sticker plus course Mokka
Rider Guide
AID Station Food and Drinks
SAG Wagon Support
Medical Support
Police Support
Moto Scout Support
Post Ride Recovery Area
Course Map & Elevation Profile
Non-Eligible Riders;
Riders who are not eligible to race in UCI World Gran Fondo Series Events;
Any rider who has during the current year been a member of a team registered with the UCI.
Any rider who has taken part in a World Championships, the Olympic Games, Continental
games, regional games, the Commonwealth Games, or a World Cup during the current year.
Any rider who scored UCI points in the year of the World Championships.
Any rider that has scored UCI points in the past 12 months means that you cannot be
officially ranked and qualified for the UCI Gran Fondo World Championships and we will be remove you from official results.
These riders are welcome in the Recreational Event Category to exclude them from ranked results.